Climatelligence is the brainchild of Shawn Hackett, Hackett Financial Advisors Inc., and James Roemer, Best Weather Inc., two of the most respected and recognized Agricultural analysts and weather forecasters, respectively in the world. With over 60 years of combined experience in analyzing Ag/commodity markets and their future price prospects, Climatelligence is a "ONE OF A KIND" weather and crop price forecasting service unrivaled in the industry.

Our mission is to educate everyone from the novice investor to major food companies, farmers, hedgers and traders, with the "very best" weather and commodity market analysis in the industry.

This service is structured for the more proactive and active hedger/trader who is looking to gain economic advantages on the shorter term volatility the agricultural markets regularly provide.

Our service will combine A) Short and intermediate-term weather analysis; B) Our "Best-Weather Spider", which incorporates a weighted score of James Roemer's "Best Weather Indicator" and Shawn Hackett's "Informed Smart Money Algorithm Indicator" providing an easy to follow grid of the most important markets to pay attention too C) Occasional, Climatech, weather maps used by some of the world's largest hedge funds and food companies in order to asses potential-longer term weather and crop yields across the globe; D) Shawn Hackett's Informed Smart Money algorithm charts (for both the overall grains and Softs groupings as well as for each individual market) E) Unique Value Indicators such as Relative Value/cash differentials and F) Ag-specific Macro fundamental Indicators.

Shawn's Informed Smart Money Indicator is a mathematical model algorithm, that produces defined buy and sell signals, with respect to select parts of the commitment of traders' report and several other variables that have been proven to be highly correlated to future Ag market price behavior.

Jim's Climatech is a unique medium-longer range weather forecast tool. This product correlates global weather data and teleconnections (such as El Nino, Sea ice, etc.) to an historical dataset to find similar global weather patterns. This helps us outperform and second guess standard weather forecast models, while searching for analog years that assist in determining potential crop yields and commodity prices patterns.

Download a free sample to see what you can expect from our service.

The annual subscription to the Climatelligence Report is $1200/year and can be paid by credit card or check.

Begin your subscription today!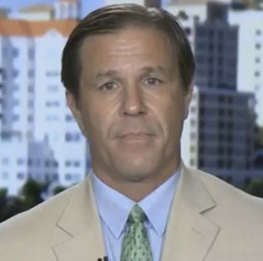 Shawn Hackett
Climatelligence Report

With Over 30 years in the financial/Ag commodity markets, Shawn rooted in South Florida back in 2002 under the tutelage of the well-respected grain market analyst, John Roach of Roach Ag Marketing, which proved to be the breeding ground for the formation of his company Hackett Financial Advisors Inc in 2007.

A frequent contributor to Barron's, Futures Magazine, Reuters, Bloomberg, US Farm Report, Ag-TV, AgnewsDaily, Market to Market-IPTV, Realvision-TV as well as regular radio show contributor for the likes of Chip Flory-AgriTalk After The Bell, Michell Rook-WNAX and Linda Brekke-The Linder Network, Ag commodities expert Shawn Hackett has dedicated his life to educating Ag industry leaders and farmers about financial risk management, hedging and the utility of indicator-based Ag commodity price forecasting tools.

Shawn makes hard-to-understand concepts easily digestible to a wide audience and is the publisher of the Hackett Money Flow Agricultural Report and the Hackett Dairy Report where his flagship "Informed Smart Money Indicator" is utilized for making consistent long term buy-side and sell-side decisions for Ag Producers and investors alike.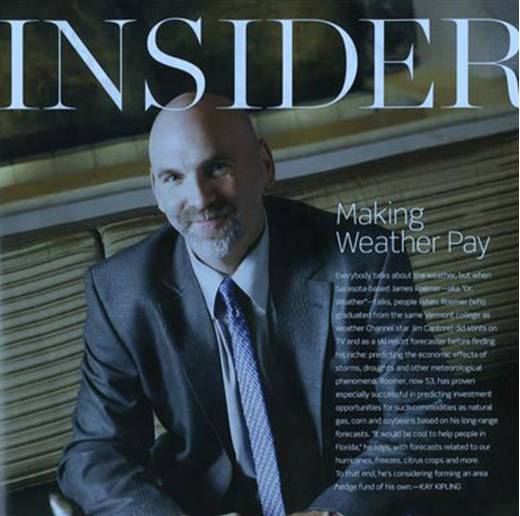 Jim Roemer
President, Best Weather, Inc./ Co-Founder- Climatech

Mr. Roemer is one the most recognized meteorologists in the world with over thirty years of experience as a commodity research analyst and weather forecaster for major grain companies, energy companies, and hedge funds. Mr. Roemer is a principal of Best Weather, Inc., a registered Commodity Trading Advisor (CTA) with the Commodity Futures Trading Commission (CFTC) and is a associate of the National Futures Association (NFA) and has consulted with thousands of farmers, futures traders and currently advises large institutional investors. Mr. Roemer is one of a few meteorologists in the world who has an understanding of commodity trading, market analysis and long range weather forecasting. Mr. Roemer has a strong understanding of technical analysis, cycles, and psychology of commodity markets. He has advised thousands of skiers, sometimes weeks in advance, where they should hit the slopes.

Some of his most recent weather market calls have been A) Being one of the first to predict the infamous 2012 U.S. grain belt drought and grain price rise B) The subsequent fall in grain prices through 2016 forecasting 2-3 year rebound in global grain production ; C) The explosion in natural gas prices during the severe U.S. winter of 2013-2014; D) The hot U.S. summer of 2016 and price rise in natural gas; E) The record warm fall in the U.S. and accompanying collapse in natural gas prices in 2016; E) The precipitous rise in heating oil prices in early 2015 due to frozen rivers and lakes during the severe Northeast winter and record snows; F) The first to forecast hurricane Sandy and subsequent rise in gasoline prices in October; 2012; G) Predicting El Nino would curtail global sugar and Robusta coffee production in 2015-2016 which led to more than a 50% rise in sugar and coffee prices.

Mr. Roemer frequently shares his vast meteorological expertise as a guest on Bloomberg and CNBC and is often interviewed by Barron's and the Wall Street Journal. Mr. Roemer also provides weather fundamentals to thousands of subscribers for SeekingAlpha.com as a contributing newsletter writer. (articles). Mr. Roemer splits his time between Sarasota, FL and Vermont as he lives an active lifestyle as a philanthropist, expert skier, cyclist, and competitive tennis player, with a deep passion and concern about the environment and climate change.