Gold, Silver, Platinum, Palladium In One

By TRANG HO, INVESTOR'S BUSINESS DAILY
Posted 10/25/2010 06:27 PM ET

The first ETF to melt gold, silver, platinum and palladium together flew off the shelves upon its launch on the New York Stock Exchange Friday.
ETFS Physical Precious Metals Basket Shares (GLTR) traded about 124,000 shares, valued at $9.3 million, on its first day.
Each share represents the spot price of 0.03 ounce of gold, 1.1 ounce of silver, 0.004 ounce of platinum, and 0.006 ounce of palladium. Fund provider ETF Securities already provides an ETF tracking each of these metals individually. It decided how much of each metal to put in the fund based on liquidity, supply and industrial demand.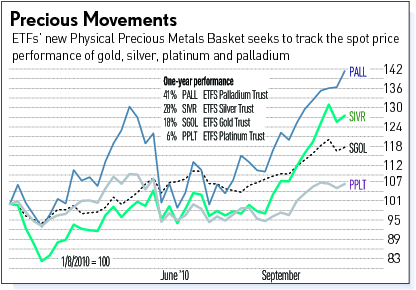 GLTR — short for glitter — is physically backed by metal bars stored in vaults in London and Zurich by JPMorgan Chase. It carries an annual expense ratio of 0.60%.
Supply And Demand Outlook
Strong demand and a falling dollar have rallied precious metals prices this year. Year to date, gold has climbed 22%, silver 39%, platinum 16% and palladium 55%, according to Kitco data.
Shawn Hackett, president and CEO of Hackett Financial Advisors, believes that after such a strong run-up, precious metals will soon crash. Sentiment indicators show that 95% of speculators are bullish on gold and only 3% are bullish on the dollar. When everyone is one side of the trade, it usually goes the other way.
"Right now we have record short positions on the dollar and record long positions on commodities, especially precious metals, just like they were in 2008 before we had a big break," said Hackett. "Sentiment couldn't be more skewed."
Hackett believes the crowd has piled into commodities on the expectation that the Federal Reserve will do a second round of quantitative easing to help lift the economy at its next meeting in November.
But the so-called QE2 won't spark inflation and hammer the dollar like everyone expects, Hackett says. Instead, the dollar is going to rally and drive commodity prices down.
"The view is that the dollar is going to zero, but just a modest increase sent gold down $40," Hackett said. "What if the dollar index rises 10%? The gold market will completely crash."
"I think it will be a springboard for heavy profit-taking," Hackett said. "Some of the smart money is already taking money off the table."
Hackett also believes China's demand for commodities will fall as it continues to hike interest rates to cool down its economy.
Mark Arbeter, chief technical strategist at Standard & Poor's, also expects a countertrend rally in the U.S. dollar index — and drop in precious metals — before the greenback undercuts last year's low and dives further .
He projects gold to fall to $1,300 an ounce, down 3% from Monday's close of $1,339.50 in New York trade; silver could drop $21-$22 an ounce, or 7%-11%, from Monday's $23.61.
"We believe any weakness in metals prices will offer a very good buying opportunity, as we see much higher prices as we move into the latter part of 2010 and into 2011," wrote Arbeter in his weekly report.
Platinum closed at $1,720 an ounce Monday and palladium at $630 an ounce, according to Kitco.
"They will trade in line with gold and silver. When this huge inflationary economy actually shows its true colors you will see a run to $2,500 in platinum and $700 in palladium, but not until this global economy turns around," Terry Sacka, chief strategist at Cornerstone Asset Metals, wrote in an e-mail.
Tax Consequences
For tax purposes, the IRS will treat GLTR as a "collectible," which eats away 28% of long-term capital gains instead of 15% for most other investments held for more than one year.
"The 28% rate would apply to the investor if the investor holds the bullion or receipts directly, so from a tax standpoint it's the same," Roger Lorence, a tax specialist and partner at New York law firm Sadis & Goldberg, wrote in an e-mail.
Profits from the sale of shares held less than a year are taxed as ordinary income.